Ana Maria Garcia Nolasco da Silva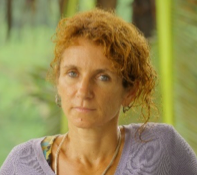 Nasceu em Lisboa em 1969.
Doutorada  e Mestra em Estética e Filosofia da Arte pela  Faculdade de Letras da Universidade de Lisboa e licenciada em Artes Plásticas – Pintura pela Faculdade de Belas Artes da Universidade de Lisboa.Professora Adjunta Convidada no Instituto Politécnico de Lisboa, Departamento de Artes.
Os seus interesses na investigação focam-se nas sinergias criadas pelo cruzamento cultural entre África e Portugal, na área do design, da arte e do artesanato tendo delimitado a área de estudos às ilhas macaronésias lusófonas e às novas constelações criadas pelas migrações contemporâneas em Portugal continental.
Neste contexto, encontra-se a desenvolver um  projeto de pós-doutoramento na UNIDCOM/IADE, Universidade Europeia, Laureate Universities e no Centro de Estudos Comparatisas da Universidade de Lisboa intitulado "Inovação, arte e design: arquipélagos criativos emergentes; as  influências nos processos criativos contemporâneos entre os arquipélagos atlânticos lusófonos,  África e Portugal" com o apoio da Fundação para a Ciência e Tecnologia (FCT), Portugal for the Post-PhD através da bolsa com a referência SFRH/BPD/108392/2015.
Publicou vários ensaios sobre teoria da arte e design e tem participado regularmente em Conferências Internacionais na mesma área. Publicou vários ensaios sobre teoria da arte e tem participado regularmente em Conferências Internacionais na mesma área.
Recentes publicações:
2022 – 'The Poetics of Sensational Forms – Azorean Art, Religion, and
Popular Culture', Religion and the Arts, 26, 337-354.
DOI:10.1163/15685292-02603003
2022 – 'Crafting political gestures of locality: The transposition of
artisanal of artisanal traditions in the artwork of Catarina Branco',
Craft Research, 13(1), 35-58. DOI: org/10.1386/crre_00065_1
2021 – 'Creative Practices and Social Imaginaries: the 8th São Tomé
and Príncipe Biennial of Arts and Culture', Field. A Journal of
Socially-Engaged Art Criticism, (University of California San Diego),
1-17. Link
2021 – 'Dialogical Art: Cartographies of Memory and Affection in the
Work of César Schofield Cardoso', in Miranda, M. & Cardoso, César S.
(eds) Atlantica: Contemporary Art from Guinea-Bissau, São Tomé, and
Cape Verde, Lisboa: Hangar Books. 67-73. ISBN: 978-989-53353-0-5. 
2021 – 'Oficina da Cor, espaço de experimentação: as possibilidades
criativas do branco', in Falcão, M., Leite, Teresa S. & Pereira,
Teresa (coord) Educação Artística 2010-2020, Lisboa: Escola Superior
de Educação, Instituto Politécnico de Lisboa. 117-122. ISBN: ISBN
978-989-8912-15-2. Link
2020 – 'O gesto político em germe: arte, artesanato, design e
feminismo: perspetivas insulares atlânticas', in Domínguez, M., Del
Rosal, F., Flores, A. & Moura, V. (eds) Estética, arte y política.
Valencia: Universitat de València. 205-228. ISBN: 978-84-09-2021-5. Link
2020 – 'Creating Kinship Together: Collaborative practises in Art and
Design', in Bauer, G., Luther, K. & Hirshfelder, N. (eds) Kinship and
Collective Action. Tübingen: Universität Tübingen. 151-179. ISBN:
978-3-8233-8350-5
2020 – 'A poética do fragmento', in Tavares, R. Tchiloli. 10-15.
Lisboa: René Tavares.
2020 – 'Gazes of the South. The Tchiloli and the Work of René Tavares,
African arts, 53, 3, 44–57. DOI: org/10.1162/afar_a_00537
2019 – 'Memory and Innovation in the Art on the Arquipelagos of São
Tomé and Principe and Cape Verde', in Innovation, Invention and memory
in Africa, IV CHAM International Conference, Lisboa: 56. ISNB
878-989-8492-67-8
2019 – 'Social Art – 'Echoes of Machim' In Advances in Social and Occupational Ergonomics, editado por Richard Goosens e  Atsuo Murata, 24–28. .  Washington D.C., USA: Springer. DOI: 10.1007/978-3-030-20145-6_7
2019 – 'A apropriação de formas de artesanato ligada à religiosidade popular na obra de Catarina Branco'. In Memória e identidade Insular, coordenado por Duarte Chaves, 175–190. S. Jorge, Açores: CHAM, Universidade dos Açores. ISBN: 978-989-20 9631-5
2019 – Between the Lines: The Innovation of Embroidery and Lace Through Art and Design in the Azores', The Journal of Modern Craft, 1–15, DOI: 10.1080/17496772.2019.1620426
2019 – 'Post-production: Archive and  memory in the work of
César  Schofield Cardoso', Nka: Journal of Contemporary African Art,
44, 95–107, DOI: 10.1215/10757163-7547478
2019. 'Islandscapes of the Azores and Madeira in the Art of Nuno
Henrique, Maria José Cavaco and Rui Melo, Maria José Cavaco e Rui Melo', Shima 13:77-99. Link
2018. 'Designing national identity through cloth: the pánu di téra  of
Cape Verde', Island Studies Journal 13:9–24. Link
2018. 'Imagem versus palavra: a arte no reverso do Código'. In Verba Volant? Oralidade, escrita e memória, coordenado por Ana Pinto, 615–632. Braga: Aletheia;
2017. 'Artificial Paradises'. In Mónica de Miranda. Geography of
Affections. 2012-2016, editado por  Mónica de Miranda, 103–111, 2017. Lisboa: Mónica de Miranda.
2017. 'Hand to Hand: Design for sustainable Living. In 9thSenses &
Sensibility`15 –Design Behind Borders, editado por Susana Gonzaga, Ana Nolasco e Emília Duarte, 191–198. Lisboa: IADE.